Time waits for no man (or woman) and it certainly doesn't wait for photographers to write blogs and update image galleries.
Our fourth visit to the Albion House, Ramsgate Hotel development was some weeks back now and we rather suspect that we'll be writing a new photoblog shortly, such is the pace of development at this amazing building. We're already talking about 'wireframes' and image content with Emma and Ben to be ready for the launch of the website - exciting times!
Compared to our last excursion around this 224 year old boutique hotel-in-waiting this shoot was pretty straighforward. With the room structures coming together we needed to capture angles from where the frame of the doorways now stand. Why? Well, on completion we're going to delight you all with before, during and after images of each room, hopefully taken from exactly the same position! Something like this.
Mostly working across the top two floors on this visit you can really start to get a sense of space and layout with the ensuite bathrooms and views out over the Royal Harbour.
You'll also find more detailed shots in this visit gallery as we got all arty with some angles. If you like copper pipes and extraction stuff - phoar - you'll love these...
However, the real attraction this time around (and with impeccible timing on our part...) was the start of the knocking down of the three wall sections facing south east out over the water. In the place of bricks and motar will be three glazed panels giving amazing light and view into and out of what will be the bar.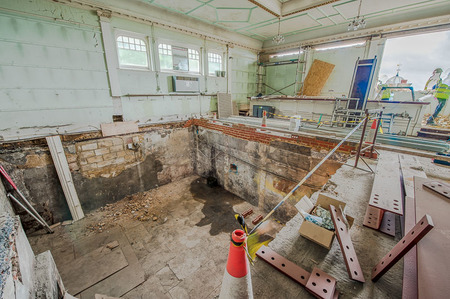 It's going to be some experience to see this development finished. Enjoy the images and sign up here to receive the alerts of the latest photoblogs.
If you'd like to see more of Ben and Emma's projects and holiday accommodation take a look in our property gallery, here.
For more information on Albion House, Ramsgate contact Ben or Emma on 01869 251 236 or email ben@myseasideluxury.co.uk
About us
We Are Hector are East Kent commercial and wedding photographers covering the whole of the South East. We specialise in; advertising photography, pr photography, editorial photography, food photography, retail photography, interior photography, property photography as well as extensive event photography, conference photography, awards photography and exhibition photography experience. Email Gareth; gareth@wearehector.com for further information and quotations.
p.s. Check out our new photography package for East Kent businesses, here