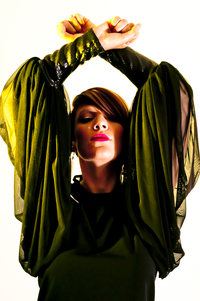 So after a few weeks of preparation, sharing thoughts and ideas, the evening finally came for the portrait photography shoot with singer and songwriter Katie Leone.
We had brought with us everything except perhaps the kitchen sink, no wait' yes, we took that too. We needed to be prepared as the shoot was always going to be quite organic as we experimented further and allowed the shots to come about in their own way. Through Katie letting us know how she was feeling and us communicating what we could see, we produced some striking photography.
Katie had had somewhat of a makeover since we last met which caught us out a little! Her new look was striking, colourful and very much 'her'. We all agreed on a chiffon black dress as anything with colour could well clash with her make up and the streaks of colour in her hair. We also had in mind that the projector would be called upon later and so something plain as a potential canvas would likely be required.
The shoot location was at Katie's house, on her request, but having just moved in Katie had a fabulous large lounge wall that was smooth and plain, an excellent background. As we knew we would be shooting portraits, space was not too much an issue. Our equipment for the shoot;
Nikon D90 Nikon 50mm f/1.8 (a beautifully sharp prime lens).
Sigma 105mm f/2.8 (a 1:1 macro lens, but also an excellent portrait lens).
500w/s flash head with 120cm octagonal softbox.
2 x 150w/s flash heads; one with gels and a snoot, the other with a 40cm softbox.
Manfrotto Tripod.
HP projector (with a small table).
Reflector.
Black and white sheets with a pop-up background.
Extension leads (don't leave home without them!)
We started the shoot off with a quick chat to firm up some of the ideas that had been bounced around and also as a chance for Katie to let us know of any further thoughts. Having just had her makeover she requested some more traditional close ups, so we started with those.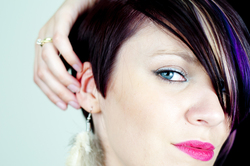 Katie has stunning blue eyes and the head shots gave us a chance to get in close and pull out some beautiful detail and colour. Combined with the distinctive hair style, flashes of colour and a really cool earring, Katie's first, very clean and sharp head shots were definite keepers! We did some small amount of photoshop work in post-processing to remove the odd stray hair, but not much at all.
Next we took a few steps back to get some fuller shots and use the fabulous chiffon sleeves of her dress. We also swapped the octagonal soft box for the snoot (without the honeycomb) as a key light in order to create some directional lighting, which would give an edgier look. For some of these shots a yellow gel was placed over the snoot, and with a few adjustments using levels and curves in Photoshop some striking images emerged.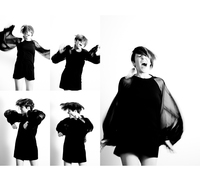 As the shoot moved towards the wee hours, we changed tack with some music and dancing, while we fired away as Katie enjoyed the moment. These shots looked great in mono and we pushed up the contrast to make the blacks pop out against the white background. The different styles in images produced was testament to the communication between us all.
The last idea to try out was using the projector to project an image onto Katie or the background. Katie wanted to create a more abstract image and so obscuring her features was acceptable. From the projections that Katie had chosen we decided on the halo of coloured stripes as a starting point. It took a little while to find a composition that worked, eventually we turned the projector on its side in order to rotate the image. Using her profile, the shouting idea was obvious straight away.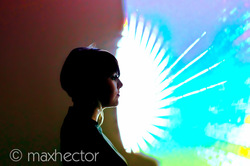 For some of the portrait photographs we were looking for a heavily processed look to go hand in hand with the use of the projector and create and almost cartoon, modelled effect. Katie's brief allowed us to throw out the rule book for portrait photography and verge on the realms of illustration. We had great fun working with Katie, she was so enthused and communicative, with loads of her own ideas too, and despite the shoot heading towards the wee hours, there was always an abundance of energy and laughter in the room.
If you are trying to build an image for yourself, or in need of fresh new portrait portfolio for promotion, why not contact us and see what we can do for you.
About us
We Are Hector are East Kent commercial and wedding photographers covering the whole of the South East. We specialise in; advertising photography, pr photography, editorial photography, food photography, retail photography, interior photography, property photography as well as extensive event photography, conference photography, awards photography and exhibition photography experience. Email Gareth; gareth@wearehector.com for further information and quotations.
p.s. Check out our new photography package for East Kent businesses, here
30 Nov -1