If you've ever sold a house or prepared a house for sale you've undoubtedly come across the opinion that walls should be magnolia and the building set as a blank canvas, for potential puchasers to paint their own mental image of their possible new home. However, Albion House, despite its stark current state, imparts its own mental image of what it was and what it could be upon you as you walk through its doors.
On this, our third visit to Albion House, Emma and Ben from My Seaside Luxury and the guys from Fontaine Decorative had been and still were dressing the rooms in preparation for our arrival. Now, you might wonder why the rooms would be dressed already, after all there is a still a great deal of work to do before Albion House opens to the public.
However, this building has a life, an atmopshere and a feeling that emanates from each space as you enter it. Dressing the room - placing some key items of furniture - merely gives a point of reference between the now and the future. The gap between is easily filled with what the building offers you.
We worked on three rooms on this visit; the lounge, reception and second floor bedroom. Surrounded by builders, dust, cables and some rather exquisite pieces of furniture it was one of the more unsual shoots we've worked on and - outside of sand from the beach - the greatest amount time spent cleaning the camera kit afterwards!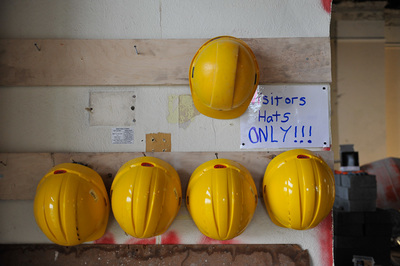 Since our last visit a lift shaft has now been created (hence the large amounts of rubble and dust!) and on the third floor new joists put in place. The joists that were removed had actually become so bowed there was an eight inch difference from the middle of the floor to outside of the joist! As we finish off this blog entry the plumbers and electricians will now be on site and the window installation will have started. Windows going in is always a sign of progress!
On non-building activity the guys have been consulting with Fontaine Decorative to select the furniture collections. Importantly, the bar layout is also being finalised! Obviously, Albion House will be operating a catering element and so Ben and Emma have been speaking to and liaising with some great local suppliers.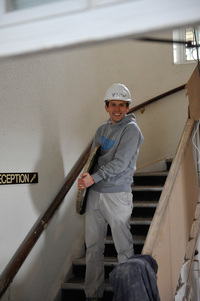 We caught a few of the builders in action this time around as well as someone pretending to be a builder. The builders for this project are Daniel Gent Construction.
For those of you who would like a more technical explanation of the shoot and how we achieved these images, please click on 'more' at the bottom of this article.
Enjoy the images.
If you'd like to see more of Ben and Emma's projects and holiday accommodation take a look in our property gallery, here.
For more information on Albion House contact Ben or Emma on 01869 251 236 or email ben@myseasideluxury.co.uk
more